Alternate header for print version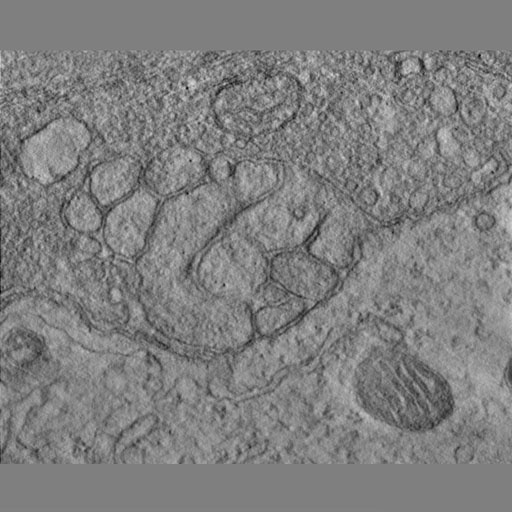 Display image description

Computed slice through a tomographic reconstruction of the pre- and post-synaptic structures of the calycal synapse onto a chick ciliary ganglion neuron. This slice was derived from the 3rd of 6 serial volumes comprising the entire reconstruction.
Full resolution image description

Zip file containing entire serial tomographic volume in Analyze 7.5 format (embryo.hdr/embryo.img). This volume was creating by aligning and concatenating 6 serial tomograms. The volume file is 269.5 Mb.
Volume_dimension

640, 640, 690
Animation description

Downsampled animation (256x256) through the computed slices of the aligned and merged volumes showing the pre- and post-synaptic structures of the calycal synapse onto a chick ciliary ganlgion neuron.
---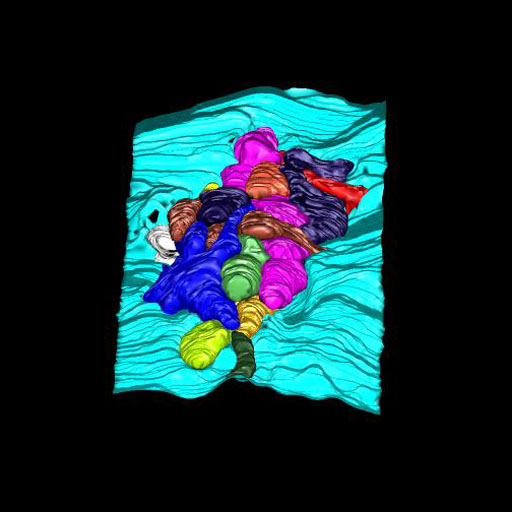 Display image description

Manual delineation of the presynaptic calyx and post synaptic spine mat using Xvoxtrace 2.17. Also delineated were the locations of PSD's, vesicles, intracellular components of the post synaptic compartment.
Segmentation file description

Zip file (~38 Mb) containing the Xvoxtrace files (*.trace) containing the manual tracings of the individual components of the calycyl synapse, including ER, PSD, vesicles, base, and spines. Each of these components was traced in a separate file and are contained in different subdirectories. Also included in each subdirectory are the surfaced contours in Synu (*.synu) format, along with the Viewdata file required for visualization with Synuview.
---
License
Project name

Reconstruction of ciliary ganglion spine mats in adult and embryonic chick
Description

Detailed structural investigation of the structure and distribution of synaptic densities on the spine mats from adult and embryonic ciliary ganglion neurons. Reconstructions were derived from serial electron tomography of in vivo neurons.
Collaborator(s)

Darwin Berg
Mark Ellisman
Naoko Yamada
Ed Esquenazi
Experiment
Title

Serial tomography of embryonic ciliary ganglion spine mat
Purpose

To employ serial electron tomography to reconstruct an entire spine mat from embryonic chick ciliary ganglion.
Experimenter(s)

Rick Shoop
Microscopy product
Microscopy product ID

3629
Instrument

JEOL 4000EX IVEM
Subject
Scientific name

Gallus gallus
Tissue section
Anatomical location

ciliary ganglion
Specimen description
System

peripheral nervous system
Structure

calycal synapse
Cell type

ciliary ganglion neuron
Imaging parameters
Type

Electron microscopy product
Accelerating voltage

400 KeV
Specimen preparation
Protocol used

Embryonic day (E) 15 chicks or 2-year-old adult chickens were perfusion-fixed with 2% paraformaldehyde plus 2% glutaraldehyde in cacodylate buffer, pH 7.4. Ciliary ganglia were removed, transferred to fresh fixative, and incubated for 3 hr at room temperature. Adult ciliary ganglia were cut into 1 mm3 pieces. After being rinsed several times in 0.1 M sodium cacodylate buffer, pH 7.4, the tissue was treated for 30 min with 2% osmium tetroxide in 0.1 M sodium cacodylate and then counterstained with uranyl acetate. The ganglia were dehydrated in a series of ethanol solutions followed by two rinses in acetone, infiltrated with Durcupan ACM resin (Electron Microscopy Sciences, Fort Washington, PA), allowed to polymerize for 24 hr at 60C, and then sectioned. For serial tomography a continuous series of 10 1-m-thick sections was prepared to encompass a complete spine mat. For traditional thin section analysis 100-nm-thick sections were made.
Imaging product type
Notes

The reconstruction shown is actually from a serial tomogram derived from 6 serial sections. As far as can be derived from the published paper, all tilt series were -60 to 60 at 2 degree increments.