Alternate header for print version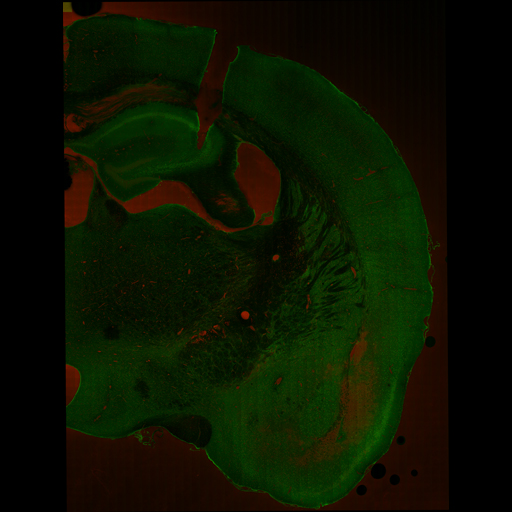 Display image description

Wide field brain mosaic of a coronal section of brain from a transgenic mouse engineered to overexpress human alpha synuclein immunolabeled for alpha synuclein (Green) and counterstained with Hoescht 33342 (red) to reveal cell nuclei. The Hoescht staining introduced some non-specific background (red haze).
Full resolution image description

Processed mosaic in .tif format (051903_vol.tif). Processed mosaic has all the tiles assembled and is a projection of the 3 optical sections acquired for each tile. The reconstruction has been rotated from the original 90 degrees CCW and flipped on the horizontal axis to conform with the orientation of a standard brain atlas and other images in this set. The original orientation has been uploaded as well (051903montage.tif) and is available for download upon request to the CCDB.
Volume_dimension

20116, 26664, 1
Volume scale

0.24, 0.24, 9
---
License
Project name

Correlated Imaging Approaches and Multiscale Databases for Research in Parkinson's Disease
Description

characterization of a mouse model of human alpha synuclein overexpressor
Funding agency

The Branfman Family Foundation
Collaborator(s)

M.H. Ellisman; M. Martone; G.A. Johnson; E. Masliah
Experiment
Experiment date

02-18-2003
Title

Alpha-synuclein immunolabeling for large-scale mapping study
Purpose

to determine the distribution of alpha-synuclein immunolabeling in transgenic tissue
Experimenter(s)

Diana Price
Microscopy product
Microscopy product ID

3993
Instrument

BioRad RTS 2000MP Multiphoton
Microscopy type

multiphoton
| Spatial Axis | Image Size | Pixel Size |
| --- | --- | --- |
| X | 512px | 0.237 um/pixels |
| Y | 480px | 0.237 um/pixels |
Subject
Scientific name

mus musculus
Group by

genetic manipulation
Treatment

Transgenic animal overexpressing alpha-synuclein
Tissue section
Anatomical location

large scale montage at anterior hippocampus
Tissue product storage

p1187
Specimen description
Atlas coordinate

0, 0, 0,
Imaging parameters
Type

Light microscopy product
Specimen preparation
Protocol used

Description: alpha-synuclein immunolabeling for large-scale mapping study (non-tg)Animals: 548 (f) transgenic from D-line (see subject log for details)Protocol1. PerfusionNembutal; 4% paraformaldehyde + 0.1% gluteraldehyde1 hr. postfix in 4% para2. Sectioned on VibratomeThickness = 80 microns3 blocks at 2 mm each from anterior (A, B, C) + cerebellumLeft hemisphere marked3. Wash 6x with PBS 1X (on ice)4. Make up blocking bufferPBS w/o NaCl = buffer usedTotal amount needed = 33 mls x 2Ingredient Amount0.8 PBS 6.6 ml 5X PBS + 24.2 ml 2x distilled H203% NGS (24 , 7 ) 0.96 ml1% fish gel 0.33 ml0.1% Triton X-100 0.0332 ml1% BSA 0.33 g5. Block slices (1 hr) in blocking bufferIngredient Amount0.8 PBS 6.6 ml 5X PBS + 24.2 ml 2x distilled H203% NGS (24 , 7 ) 0.96 ml1% fish gel 0.33 ml0.1% Triton X-100 0.0332 ml1% BSA 0.33 g6. Make up working bufferUse blocking buffer to dilute to working bufferIngredient AmountBlocking buffer 20 ml0.1% Triton 0.2 ml1X PBS 180 ml7. Wash 1X5 minutes with working buffer 8. Dilute primary Abs in working bufferanti-alpha-SYN; Host = Rabbit 1:5009. Place on shaker in cold room labeled & covered with aluminum foil overnight10. Wash 6x with working buffer11. Prepare secondary Abs (for confocal immunolabeling)goat anti-rabbit - AF 568 @ 1:50 12. Let sit on cold room shaker covered with foil for 48 hrs13. Wash 3x with 1X PBS 0.814. Prepare nuclear stain* Final solution = equal parts 2xPBS + 1:100 Hoescht 33342 in ddH2O* Prepare each separately. * Once added together, you should not observe any precipitation.* If precipitation is observed.... Do not use the solution!15. 30 min staining with nuclear stain16. Wash 3x with 1X PBS 0.817. Sections mounted on slides and coverslipped using Gelvatol
Imaging product type
Description

10% overlap of tile
Imaging product type
---
---