Alternate header for print version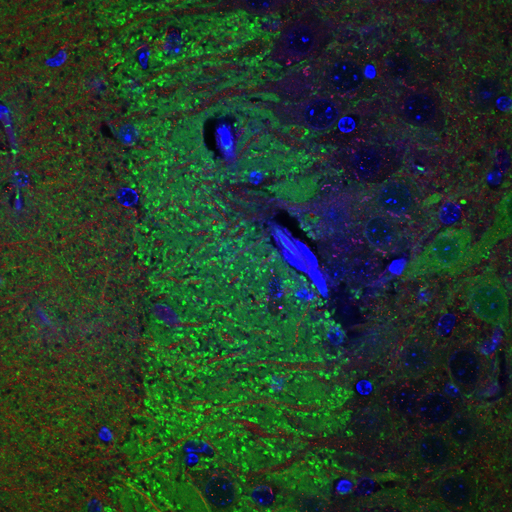 Display image description

Triple labeled confocal image of hippocampal area CA3 of a transgenic mouse engineered to overexpress alpha synuclein under the Thy-1 promotor, immunolabeled for mGluR5 (red), alpha synuclein (green) and counterstained with DAPI (blue) to reveal cell nuclei.
Full resolution image description

Zip archive containing the 3 channel image file in tiff format (112006fff_RGB.tif). Also included is the .oif header file generated by the Olympus Fluoview, which gives additional detail on microscope settings.
---
License
Project name

Localization of Metabotropic Glutamate Receptors in Alpha Synuclein Overexpressing Mouse
Description

Characterization of staining for mGluR5 glutamate receptor in animal model of Parkinsonian disorders
Funding agency

Branfman Family Foundation
Collaborator(s)

Edward Rockenstein
Eliezer Masliah
Mark Ellisman
Experiment
Title

Comparison of mGluR5 and synuclein staining
Purpose

To determine the relationship between mGluR5 and alpha synuclein staining in different lines of alpha synuclein overexpressing mouse
Experimenter(s)

Diana Price
Microscopy product
Microscopy product ID

4072
Instrument

Olympus Fluoview 1000
Microscopy type

laser scanning confocal
| Spatial Axis | Image Size | Pixel Size |
| --- | --- | --- |
| X | 1024px | 0.207 um/pixels |
| Y | 1024px | 0.207 um/pixels |
Subject
Scientific name

mus musculus
Group by

Genetic Modification
Treatment

Overexpression of human alpha synuclein under Thy1 promotor
Specimen description
System

central nervous system
Imaging parameters
Type

Light microscopy product
Mounting medium

Prolong (Molecular Probes)
Lens

Olympus PlanApo 60X oil
Notes

DAPI was added to the mounting medium.
Imaging product type
Description

Only a single optical section was acquired for each image.
Imaging product type
Description

Survey sections through different brain regions
Notes

Each brain region is indexed under a separate microscopy product ID
---
---