Alternate header for print version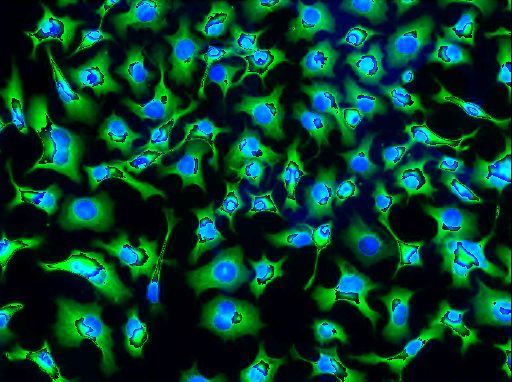 Display image description

Wide field fluorescent image of cultured neuroblastoma cells labeled with phalloidn FITC (green) and DAPI (blue) nuclear stain.
Full resolution image description

Zip file containing full resolution single channel 12 bit images. For each image, F01_*w1.TIF corresponds to the phalloidin channel and F01_*w2.TIF to the DAPI channel.
---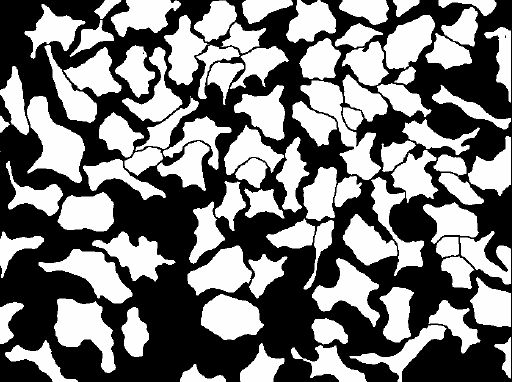 Display image description

Manual segmentation of cell and nuclear boundaries of double labeled cultured neurons, generated using Adobe Photoshop
Segmentation file description

Manually segmented files in tiff format. The name of the binary files indicates the corresponding original image, available for download through the 2D Image panel, e.g., F01_120_GT_01.tiff contains the "ground truth (GT)" masks for image file F01_120.tiff. Each image may have more than one mask file generated for it, indicated by the final number, e.g., F01_120_Gt_02.tiff is the second mask generated for F01_120.tiff.
---
License
Project name

Autosegmentation of cultured neurons
Description

To develop automated algorithms for analysis of neurite outgrowth in high content screens of cultured neurons. This data set consists of wide field epifluorescent images of cultured neurons with both cytoplasmic (phalloidin) and nuclear stains (DAPI) and a set of manual segmentations of neuronal and nuclear boundaries that can be used as benchmarking data sets for the development of segmentation algorithms.
Collaborator(s)

Hwee Kuan Lee
Srivats Hariharan
Wen Yu Bu and Sohail Ahmed
Experiment
Title

High throughput image acquisition and segmentation
Purpose

To generate a set of ground truth image data sets for development of automated segmentation routines for neurite outgrowth
Experimenter(s)

Weimiao Yu
Microscopy product
Microscopy product ID

6843
Microscopy type

EPIFLUORESCENT
| Spatial Axis | Image Size | Pixel Size |
| --- | --- | --- |
| X | 1392px | 0.31 nm/pixels |
| Y | 1040px | 0.31 nm/pixels |
| Y | 1px | |
Subject
Scientific name

mus musculus
Treatment

The data sets actually are derived from 4 different culture conditions: (i) serum starvation with 50,000 cells/slide, (ii) serum starvation with 30,000 cells/ slide, (iii) Toca-1 transfected with 50,000 cells/slide, and (iv) Toca-1 transfected with 30,000 cells/slide. However, as these culture conditions are not relevant for the purpose of this study, we have collapsed all data into a single data set.
Specimen description
System

central nervous system
Imaging parameters
Type

Light microscopy product
Specimen preparation
Protocol used

Cells are grown on 18 X 18 lamin coated glass coverslips maintained at 37 deg C in 5% CO2. Culture medium is Dulbecoo's Modified Eagle's medium supllemented with 4500 mg/ml glucose and 1% penicillin-streptomycin as an antibiotic. Cells were serum starged for 48 hrs and then fixed with 4% Paraformaldehyde, then counterstained with DAPI and FITC-phalloidin
Imaging product type
Description

Automated acquisition of survey images of cultured neurons for segmentation algorithm development