Alternate header for print version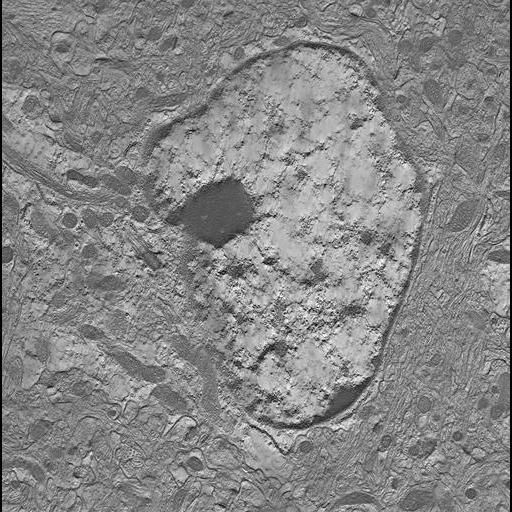 Display image description

Single computed slice through a serial tomogram consisting of 26 single tilt tomographic reconstructions of the soma of an astrocyte in stratum radiatum of hippocampal area CA1 of an adult mouse. The final volume was binned 8X from the original resolution because of the large size. Each of the full resolution reconstructions of single slices are available as separate Microscopy Products.
Downsampled image description

bin by 8 tomographic reconstruction of 26 serial sections of astrosoma collected on 4000#2 (with 8k x 8k CCD camera)
Volume_dimension

1731, 1270, 648
Volume scale

0.012, 0.012, 0.012
Animation description

Animation through the serial tomogram of 26 single tilt tomographic reconstructions of the soma of an astrocyte in stratum radiatum of hippocampal area CA1 of an adult mouse along with segmentations of key structures. The reconstruction was downsampled for ease of display.
---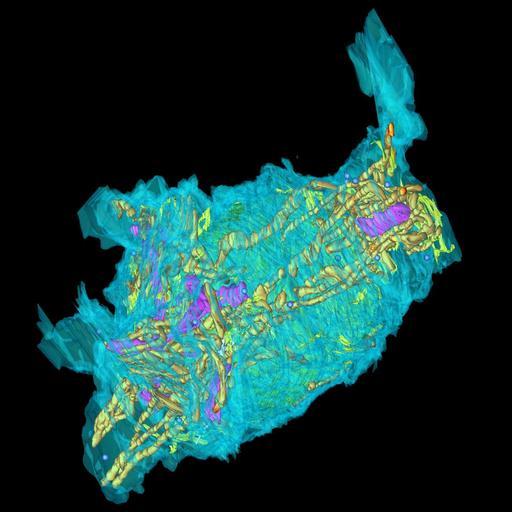 Display image description

Manual segmentation of astrocyte soma and associated organelles using IMOD 3.13.5
Segmentation file description

Manual segmentation of major structures in astrocyte cell soma from a serial reconstruction in IMOD model format
---
License
Project name

Whole Brain Catalog Project
Description

The Whole Brain Catalog™ is a ground-breaking, open-source, 3-D virtual environment developed by a team of researchers from UC San Diego under the Whole Brain Project™. The Catalog aims to connect members of the international neuroscience community to facilitate solutions for today's intractable challenges in brain research through cooperation and crowd sourcing. CCDB provides the backend services for very large scale image data sets on mouse brain derived from high resolution light and electron microscopy
Funding agency

Ted Waitt Family Foundation
Leader(s)

Mark Ellisman
Stephen Larson
Collaborator(s)

Sarah Maynard
Eric Bushong
Maryann Martone
Experiment
Experiment date

10-01-2009
Title

Ultrastructural analysis of cerebellar and hippocampal neuropil
Purpose

To use serial electron tomography to determine differences in the ultrastructure of neuropil between the cerebellum and the hippocampus. Samples were prepared using conventional EM protocol.
Experimenter(s)

Eric Bushong
Monica Berlanga
Microscopy product
Microscopy product ID

7503
Product type

SERIAL TOMOGRAM
Subject
Scientific name

Mus musculus
Treatment

Strong aldehyde and osmium fixation, en bloc uranyl acetate, standard dehydration, and epoxy embedding using a normal male, C57 black 1-month-old mouse.
Tissue section
Anatomical location

hippocampus, from CA1 stratum radiatum
Tissue product storage

embedded
Specimen description
System

central nervous system
Cell type

protoplasmic astrocyte
Imaging parameters
Type

Electron microscopy product
Specimen preparation
Protocol used

Perfuse animal with Ringer's solution for 2 minutes followed by 2% glutaraldehyde and 2% paraformaldehyde in 0.15M sodium cacodylate buffer, pH 7.4, at 35 degrees Celsius for 10 minutes. Remove tissue and fix on ice for 1-2 hours. During this time the tissue is further dissected.Wash 5x5 minutes in cold 0.15M sodium cacodylate buffer.Postfix in 1% OsO4 in 0.15M sodium cacodylate buffer on ice for 1 hour.Rinse in cold ddH2O 4x5 minutes.Place tissue into 2% uranyl acetate in ddH2O on ice for 2 hours.Rinse tissue in ice cold ddH2O 3x5 minutes.Dehydrate tissue in ethanol series 20, 50, 70, 90, 100% for 5 minutes each on ice.Complete dehydration with 100% acetone 2x10 minutes, first on ice, second at room temperature.Infiltrate with solution of 50% acetone and 50% durcupan ACM resin overnight in scintillation vials with caps on.Transfer tissue to foil dishes and change to 100% resin for 1 hour. Place into fresh resin for an additional 2 hours.Place in fresh resin and flat embed using 2 mould release treated slides. Polymerize in 60 degree Celsius vacuum oven for 24-48 hours.
Imaging product type
Description

8k x 8k CCD (4000#1) serial tomographic reconstruction